Veronica Ryan wins the 2022 Turner Prize
Veronica Ryan, the artist who honoured the Windrush generation, has been named winner of the 2022 Turner Prize in a ceremony held in Liverpool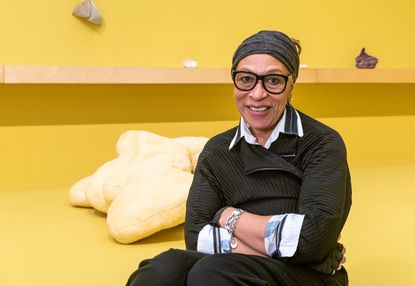 (Image credit: © Brian Roberts)
Veronica Ryan, a New York- and Bristol-based sculptor who has used handcrafted works to address themes of history, belonging and identity, was named the winner of the Turner Prize 2022 earlier today.
The result was announced this evening at St George Hall in Liverpool, a stone's throw away from Tate Liverpool – home to this year's Turner Prize exhibition. Tate director Maria Balshaw presented Ryan with the prize alongside musician Holly Johnson, lead vocalist of the 1980s English synth-pop band Frankie Goes to Hollywood, in a ceremony that was broadcast live on the BBC.
Born in 1956 in Plymouth, then the capital of the British overseas territory of Montserrat, Ryan pursued her artistic education in the UK (at SOAS, Slade, Bath Academy of St Albans College of Art and Design), where she was inspired by the work of Eva Hesse, Louise Bourgeois and Barbara Hepworth.
A scholarship from the Slade enabled her to visit Nigeria, which inspired her interest in the adaptation of everyday consumables in her artwork. One can draw a through line from this visit to Ryan's best known installation, a memorial to the Windrush generation that was unveiled outside London's Hackney Town Hall in 2021. Ryan's giant custard apple, breadfruit and soursop, rendered in marble and bronze, pay tribute to the people who arrived in the UK from the Caribbean between the late 1940s and 1970s.
'I chose those particular fruit and veg because they're what my mum ate when she was pregnant with me,' Ryan explained in a video created for her Turner Prize nomination. 'I like the idea that there's this whole side of nurture and healing and mother-daughter relationships and intergenerational information being passed on.'
Alongside the Windrush memorial, it was Ryan's exhibition at Bristol contemporary art centre Spike Island, between May and September 2021, that earned her the nomination for the Turner Prize. Titled 'Along a Spectrum', the exhibition examined environmental and sociopolitical concerns, personal narratives, history and displacement, and the winder psychological implications of the Covid-19 pandemic.
Key to the exhibition was Ryan's research on the history of Montserrat, and her attempt to identify its early culture prior to the arrival of Europeans. Among the artworks were large groups of soursop skins and cocoa pods, cast in clay and glazed with volcanic ash.
In awarding Ryan the Turner Prize 2022, the jury recognised the 'personal and poetic way she extends the language of sculpture'. She was selected from a shortlist of four artists, which also included Heather Phillipson, Ingrid Pollard and Sin Wai Kin.
Accepting the award with joyful exclamations of 'Power' and 'Visibility' , Ryan acknowledged her family – particularly her dad, whose hat she wore to the prize ceremony, and her siblings that didn't survive, Patricia, Josephine and David.
The prize jury is chaired by Alex Farquharson, director of Tate Britain, and Helen Legg, director of Tate Liverpool. Other members are Irene Aritsizábal, head of curatorial and public practice at Gateshead's Baltic Centre for Contemporary Art; Christine Eyene, lecturer in contemporary art at Liverpool John Moores University; Robert Leckie, director of Spike Island; and Anthony Spira, director of Milton Keynes' MK Gallery.
The Turner Prize 2022 exhibition runs until 19 March 2023 at Tate Liverpool. tate.org.uk (opens in new tab)
TF has been editor of Wallpaper* since December 2020. He is responsible for our monthly print magazine, planning, commissioning, editing and writing long-lead content across all our content pillars. He also plays a leading role in multi-channel editorial franchises, such as our annual Design Awards, Guest Editor takeovers and Next Generation series. He aims to create world-class, visually-driven content while championing diversity, international representation and social impact. TF joined Wallpaper* as an intern in January 2013, and served as its commissioning editor from 2017-20, winning a 30 under 30 New Talent Award from the Professional Publishers' Association. Born and raised in Hong Kong, he holds an undergraduate degree in history from Princeton University.