Man-made diamonds explained
Man-made diamonds are having a moment. Whether as a sustainable alternative to classic engagement rings or as affordable diamond jewellery, synthetic diamonds are more popular than ever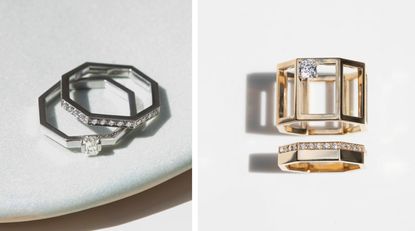 (Image credit: TBC)
As man-made diamonds become a popular choice for alternative engagement rings (opens in new tab), so the curiosity around them grows, with many unclear about what sets them apart from natural diamonds. There is no technical, physical, chemical or optical difference between a lab-grown diamond and a real diamond – the single difference is how they came into being.

'In 2018, the US Federal Trade Commission (FTC) re-categorised the definition of a diamond, removing the word "natural", says Sidney Neuhaus, co-founder of Kimai. 'So there is now no classified, scientific or molecular difference between mined and lab-grown diamonds, with industry experts unable to tell the difference visually. I am a qualified gemologist and wouldn't be able to tell the difference between a mined and a lab-grown diamond, using a 10x loupe.' Adds Ye-Hui Goldenson, PR director for supplier Diamond Foundry and its in-house synthetic diamond brand, Vrai: 'Lab-grown diamonds have been around for decades as they have been used for industrial purposes. It has just been recently that the technology has advanced to the point of creating gem quality diamonds which account for fewer than 1 percent of all diamonds.'

With these advances in technology and a growing desire for more sustainable options, lab-grown diamonds have accelerated in popularity, with a host of jewellers both creating their own and incorporating them into chic and contemporary designs.
Swarovski
Daniel Swarovski's desire to make the diamond more accessible for all was the original intention behind the hugely popular Swarovski crystals; the 2018 debut of their laboratory-created diamonds, then, was the logical next step.
It hasn't been an uncontroversial one. 'There were challenges in the beginning in convincing the retailers to start with this completely new material, as there was a lot of uncertainty in the market,' the brand say. 'We had to gain the trust of both retailers and customers.' Since the original launch, they have expanded their range, last year launching diamonds in 16 new colours. While there is nothing new about the process of creating diamonds in a laboratory – man-made diamonds have been widely used in the technical industry as effective cutting and polishing tools for decades – it is only relatively recently their quality has improved for them to be used as jewellery.

As Swarovski points out, Swarovski Created Diamonds are diamonds, identical in every way except for the growth process which has been replicated in a laboratory. It can take two forms, the first, HPHT (high pressure high temperature) simulates the natural formation process under laboratory conditions. A tiny diamond seed and growth cells (which include the carbon source, graphite) are submitted to the pressure and temperature conditions needed for diamond crystals to form. The second way, CVD (chemical vapour deposition) involves diamonds growing on seed crystals under a low pressure, with high heat breaking up the carbon source, in this case, methane. The carbon atoms can then form a diamond crystal. 'Our diamonds possess the same chemical composition as mined diamonds,' a Swarovski spokesperson says. 'The only difference is that the origin is a laboratory and not the earth, just as a greenhouse-grown orchid is identical to one found in nature. Swarovski Created Diamonds are graded in the same manner as mined diamonds, per the 4Cs of clarity, color, cut and carat weight. It's a high-tech, man-made product.' Rough laboratory-created diamonds need to be polished and cut just as mined diamonds are when they are removed from the earth.

There are added benefits to diamonds created in this way, namely, their price – Swarovkis's laboratory-created diamonds are between 30-50 percent below the price of a comparable mined diamond. It is a factor that helps their appeal in the bridal market; already, the brand are seeing an increased acceptance of laboratory-created diamonds in that most emotional of investments, an engagement ring.
swarovski.com (opens in new tab)
Jem
Parisian brand Jem (with a name inspired by the mantra 'jewellery ethically minded') launched its lab-grown diamonds in 2018, including octagonal rings with square cut diamonds, graphic pave linking rings and modern solitaire styles. The brand works closely with Diamond Foundry, with the vast majority of its lab-grown diamonds sourced from its laboratories. 'Working essentially with renewable energies, Diamond Foundry diamonds are the only one to be carbon neutral certified,' explains Dorothée Contour, Jem's CEO. Working with Diamond Foundry directly allows Jem to shorten its supply chain, controlling every step along with the stone's traceability.
Contour says lab-grown diamonds signal a new chapter in jewellery altogether, only made possible by the science that is available today, working in partnership with nature. 'A new page of the history of diamond is turning,' she says. 'A new generation of diamond, of new purity, ethical, respectful of humans and nature and completely traceable. A diamond from our time, with an eternity turned towards the future.'

Contour explains clearly the similarities between lab-grown and naturally occurring diamonds: 'Lab-grown diamonds are formed in the exact same way as in natural conditions, with the same process. What is wonderful is that it's utterly identical to mined diamond. It takes shape in the same way as in the wild, like a cultivated flower compared to a wild one. Its story is different, but in the end this is still the same flower.' She expands on the science: 'We reproduce nature's extreme conditions in laboratories, which allows pure carbon crystallisation to happen. The only difference is that this formation isn't a mere coincidence, but is generated by human intervention in a controlled context. It also doesn't require any extraction. This way, as in the wild, diamonds taking shape are submitted to hazards that will alternate their colors or generate inclusions. The diverse qualities of the stones are the same as for natural diamonds, therefore so is the selection process.'

Customer awareness is growing, says Contour. 'Two years ago, nobody really knew this new diamond. We had to explain, over and over, tell our story so that people understand what was behind this. But this is exactly what we like to do and claim to be: transparent, telling things how they are.' This is driven in no small part by the growing desire and demand from younger consumers to be more responsible in their purchases. 'We didn't want to work with mined diamonds as there aren't enough certifications regarding their extraction's impact. Today, we cannot turn a blind eye to what is happening in most mines: high-risk working conditions, child labor, human rights violation and significant environmental damages. Additionally, it is extremely complicated to clearly establish where a mined diamond is sourced from, as they can pass through the hands of many intermediaries, before reaching the end of the supply chain. Considering our standards of responsibility, traceability and our social and environmental consciousness, we went for a sustainable, high-quality alternative.'

But can the emotional connection to diamonds be replicated by their lab-grown counterparts? Absolutely, according to Jem, and what's more, lab-grown appeals to the future generation of eco-conscious diamond purchasers. 'Today, young generations are completely adopting it,' says Contour. 'In the end, it represents them. It embodies both the inheritance of tradition and disruption, of innovation and progress. It represents a committed, responsible, transparent and innovative vision of progress.'
Kimai
Putting into practice years of knowledge gleaned from their childhoods growing up in Antwerp to diamond trader and jeweller families, Jessica Warch and Sidney Neuhaus founded Kimai in 2018. Aiming to build a new diamond brand that would 're-educate, re-align and re-imagine the diamond industry', lab-grown diamond and 24 kt recycled gold are integral to the company. The duo launched their Perfectly Imperfect collection of lab-grown diamond engagement rings in October 2020.
'As we grew up, we were more and more curious about supply chains and it became important to us to know where things we were buying originated from,' says Kimai co-founder Jessica Warch. 'We wanted to address this lack of transparency and set out to realign the industry by creating a modern brand that delivers progressive – but still luxurious – fine jewellery, catered to an ethically and environmentally conscious generation of consumers.'

The Maya engagement solitaire with a brilliant oval cut lab-grown diamond has become a bestseller. 'It's a classic but so elegant and timeless,' says Sidney Neuhaus, adding, 'We do have many enquiries for non-conventional engagement ring designs, such as the Billie or the Frida ring.' Interestingly, since launching their dedicated engagement ring capsule collection in October 2018, all the enquiries have come from women. 'This was a really interesting insight, as it shows a shift in the traditional narrative, where women now take the lead to find their perfect engagement ring,' shares Warch.

Warch and Neuhaus create all the designs and oversee production for Kimai pieces, although they source the lab-grown diamonds from specialist suppliers in Israel, Russia, USA and Singapore. 'We purchase our diamonds from manufacturers directly - and most of them use renewable energy,' explains Neuhaus.

The founders insist the conventional '4 C's' grading of traditional natural diamonds is just as important with lab-grown, and they use only top-notch stones (meaning colors D,E,F,G and clarity VS+). 'Lab-grown diamonds grow the exact same way as a mined diamond does, therefore it also has inclusions, which are what affect the grading of the stone. This is what makes a diamond so unique.'

The cost of lab-grown diamond is based on the Rapaport List, the primary source for diamond pricing information. 'Lab-grown diamonds are approximately 50 to 60% more affordable than mined diamonds,' says Neuhaus, explaining they are typically priced by discounting from this list. And despite their very different beginnings, and different price tags, lab-grown stand up to rigorous scrutiny.
kimai.com (opens in new tab)
De Beers Group
For De Beers Group, man-made diamonds are an area worthy of investment. A separate initiative from De Beers jewellers – who only work with natural diamonds – the group works on creating laboratory-grown diamonds through their production company Element Six who supply synthetic diamonds to Lightbox Jewelry. Launched in 2018 by De Beers Group, it creates accessibly priced fashion jewellery.
'Out of the two methods used for creating synthetic or laboratory-grown diamonds, we use the CVD (chemical vapour deposition) method,' De Beers Group say. 'In this process, lab-grown diamond seeds are loaded into a CVD reactor. Then, a mix of gasses containing carbon is added at a very low pressure. Microwaves are added to heat the gases and generate plasma. When the temperatures climb over several thousand degrees, the gas molecules break apart and carbon atoms bond to the seeds, growing them one layer at a time.'

It is an efficient process, taking just a matter of weeks to produce a new batch of lab-grown diamonds, although De Beers Group encourage a rethink in how their quality is judged. 'Natural diamonds are graded using the 4Cs because this provides an assessment of their rarity. Due to the way they've been created by nature, the larger, better colour and better quality natural diamonds are exponentially rarer than smaller, lower colour and lower quality diamonds,' they say. 'Lab-grown diamonds, in contrast, are purposely grown in controlled environments. This means that 4Cs grading for lab-grown diamonds doesn't provide an assessment of the stone's value in the same way it would for a natural diamond. Large, high-quality lab-grown diamonds are not necessarily a lot rarer or more valuable than smaller or lower quality ones, which is one of the reasons why Lightbox follows a linear pricing model of $800/ct across all sizes.'

As there is no limit on potential supply, prices will naturally decline over time. 'This is good news for the consumer, as high-quality lab-grown diamonds fashion jewellery becomes ever more accessible for every day, while the natural diamonds that mark life's truly special and rare occasions continue to become increasingly more valuable over time.'
Vrai and Diamond Foundry
Vrai was acquired by synthetic diamond producer Diamond Foundry in 2016, which has supplied Dover Street Market, Balmain, Jony Ive and Marc Newson and more with lab-grown diamonds. 'We consider a very important 5th C which is carbon footprint,' says Ye-Hui Goldenson, PR Director for both Diamond Foundry and Vrai. 'Diamond Foundry is the only diamond producer in the world that is certified carbon neutral and utilizes hydropower for zero emissions.'
Still wondering exactly how a lab-grown diamond is made?
Producer Diamond Foundry is driving much of the innovation. 'We have developed a proprietary plasma reactor that operates at atmospheric pressure ranges and grows diamond while maintaining a carbon neutral process,' says Ye-Hui Goldenson, director of public relations and communications for both Diamond Foundry and its in-house synthetic diamond brand Vrai.

'We discovered a fourth state of matter by which atoms can attach to nature's diamond crystal lattice and grow it in size. One by one, the atoms stack on top of a thin foundation of diamond, extending the unique crystal structure of diamonds extracted from the Earth. Atom by atom, it grows into a pure, jewellery-grade diamond of gem size.'

Diamond Foundry's development in producing synthetic diamonds is a happy consequence of technological developments for other sectors. 'Our CEO's previous company focused on creating sustainable energy through technology that they pioneered and realised that something similar could be used to benefit so many other industries,' says Goldenson. When they decided to direct this technology towards diamonds, the goal was 'to take an industry historically known for its disregard for the environment and to make it sustainable utilizing renewable energy.'

'Producing lab diamonds requires a lot of capital and expertise,' insists Goldenson, explaining that Diamond Foundry focuses on larger 'uniques' (meaning one carat and higher). It takes around 1-2 weeks to 'grow' a one carat diamond, and longer for higher carat weights. With this level of productivity, Diamond Foundry is aiming to produce a million carats annually at its foundry in Washington State, which is powered by the Columbia River.

Will this availability affect the market price? 'Lab-grown diamonds are based on the current market value. That said, Diamond Foundry diamonds have no mark ups due to being vertically integrated and the fact that there are no middle men,' says Goldenson.

The sustainability argument is compelling. 'Mining has a larger environmental footprint than any other human activity. For a single carat of diamond, approximately 250 tons of earth have to be dug up, 2,011 ounces of air pollution is released and 143 lbs of carbon dioxide is emitted.'

Diamond Foundry acquired Vrai in 2016, the perfect vehicle to showcase its dazzling synthetic diamonds in modern designs that would appeal to a responsible, style-conscious consumer. Set in recycled gold and sold in recycled, compostable, reusable packaging, the brand is setting the bar high for the next wave of the industry.
vrai.com (opens in new tab)
diamondfoundry.com
Tilly is a British writer, editor and digital consultant based in New York, covering luxury fashion, jewellery, design, culture, art, travel, wellness and more. An alumna of Central Saint Martins, she is Contributing Editor for Wallpaper* and has interviewed a cross section of design legends including Sir David Adjaye, Samuel Ross, Pamela Shamshiri and Piet Oudolf for the magazine.
With contributions from