Simple jewellery pieces bring a refreshing elegance to lockdown style
In a mid-pandemic world, a host of jewellers are seeking order amongst the chaos. Jewellery is being crafted in clean materials such as gold or concrete and encapsulates essential concepts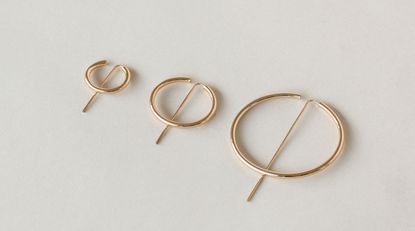 (Image credit: jaclynmoran.com)
Pippa Small
Pippa Small has worked in collaboration with the Turquoise Mountian charity for these elegant pieces created by local artistans in Afghanistan. The resulting collection celebrates bright gems and oversized links, but it is this ebullient zigzag of gold which we'll be reaching for to brighen up the endless Zoom calls.
pippasmall.com
YSSO
Greek-based jeweller Alexia Karides works with her mother, an archaeologist, to design their textured and sculptural gold jewellery. The pieces, hand-crafted in Greece by local artisans, are inspired by the swirling patterns of Greek lace for an understated take on modern adornment. Looping twists and swirls of gold pay homage to classical or natural concepts – here, a golden ribbon nods to the headbands traditionally worn in the cultures of the Mediterranean, Levant and Persia.
Milamore
Milamore's Kintsugi collection is inspired by the Japanese tradition of mending broken pottery with lacquer dusted with powdered gold. Founder George Root was keen to reflect this sense of acceptance in his sharply defined jewels which curve around the neck, wrists and fingers in jagged golden lines. 'I knew I wanted to make a collection based on Japanese culture, which is the country where I grew up,' says Root. Fittingly for a world mid-pandemic, his abstract lines are created to bring peace to the wearer: 'This collection wouldn't be complete without the human body. Let's say humans are the "broken pottery". By wearing the Kintsugi pieces, you complete the design and you become the Kintsugi repaired artwork.'
Jaclyn Moran
'I am drawn to geometric shapes and simplicity and generally prefer order over chaos,' says LA-based jeweller Jaclyn Moran. Her first piece of jewellery, the Hoop & Post earring, encapsulates this fuss-free aesthetic. A contemporary take on the classic hoop, it combines form with function in perfect simplicity. The pieces are available in varying sizes, although proportions remain the same: 'The ratio of the post and the hoop remains consistent throughout the different size variations,' she says. One version comes edged with clean pavé diamonds; in the Melted version, the hoop is gently distorted in a play on geometry. Moran adds: 'Ultimately, whatever one chooses to focus on when approaching a design should reflect and express a personal philosophy – I believe the Hoop & Post does that for me.'
RELATED STORY
Morf
The stark architecture of Serbia is translated into contemporary jewellery by young Belgrade-based brand Morf, who were inspired by the concrete architecture of their childhood for jewels which get back to basics. 'Growing up in Belgrade, a city famous for its Yugoslav architectural experimentations, we were surrounded by a lot of modernist, exposed-concrete architecture built by previous generations,' says co-founder Nina Lazic. Their jewellery redraws these Brutalist lines in speciality concrete, embracing the imperfections which are an unavoidable consequence of working with the unforgiving material. 'This feature is something we love – this honesty and inhomogeneity gives it a distinct personality that's generally not seen in more conventional jewellery materials.' Despite its traditionally mascuine connotations, the jewellery itself is feminine, even elegant. 'What helped give it this look and feel were elongated and clean forms. By jewellery standards, these are chunky pieces, but when it comes to concrete, we keep it slender.'
INFORMATION
Hannah Silver joined Wallpaper* in 2019 to work on watches and jewellery. Now, as well as her role as watches and jewellery editor, she writes widely across all areas including on art, architecture, fashion and design. As well as offbeat design trends and in-depth profiles, Hannah is interested in the quirks of what makes for a digital success story.