The most surreal moments in Art Basel history, from taped bananas to wealth-ranking ATMs
As a wealth-ranking ATM stole hearts and headlines at Art Basel Miami 2022, we look back on the most controversial moments in the history of Art Basel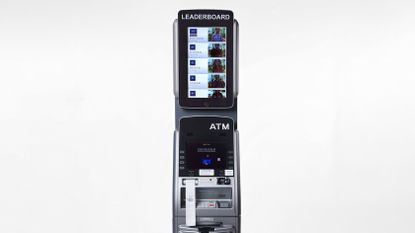 (Image credit: Photographer: Pauline Shapiro. Courtesy of MSCHF and Perrotin)
Art Basel was founded in 1970 to lure a new wave of collectors and enthusiasts in the postwar consumer society, rich in time, money and new means of global communication. The art mega fair has spent the last 50 years redefining what an art event can be. Beyond a marketplace for the deep-pocketed, a magnet for celebrities, a hotbed for lavish parties and fertile ground for people-watching, Art Basel has become a cultural incubator for some of the most radical moments in the history of contemporary art.

Following an epic Art Basel Miami 2022, we take the opportunity to reflect on the unforgettable moments that have defined the fair's history, from taped bananas to wealth-ranking ATMs.
An ATM displayed and ranked visitors' bank balances

How would you feel to see your bank balance displayed, and ranked, in public? Well, it might depend on how much you had in there. At Perrotin's booth at Art Basel Miami 2022, American art collective MSCHF debuted ATM Leaderboard, an installation displaying the real-time bank balances of users (with a picture of their faces), and ranking them in order of wealth.
Monster Chetwynd played ball on Art Basel's Messeplatz
At Art Basel 2021, British artist Monster Chetwynd made quite the entrance. Taking to the Messeplatz near the fair entry point, performers clad in glamorous, sequin-studded costumes rolled in and danced around giant transparent zorbs directed by the artist's choreography. This extraterrestrial performance, titled Tears, was inspired by Salvador Dalí's bejewelled crying eye timepiece and made for a poetic, absurd and jaw-dropping prologue to Art Basel's 2021 edition.
Maurizio Cattelan's duct tape-meets-banana drama
In 2019, it had been a while since the art world had given its community an electric shock. Just as the dust was settling (in retrospect, the calm before an earth-rattling storm), Maurizio Cattelan took the lull as an opportunity to strike. Created in an edition of three, his Comedian consisted of a fresh – if lightly bruised – solitary banana taped to Perrotin gallery's booth wall with a piece of metallic duct tape. It was a minimal composition – which later inspired a series of T-shirts – using a classic comedy device to comment on global trade. Or maybe not; as Cattelan put it, 'The banana is supposed to be a banana'.
In another dramatic plot twist, Georgian performance artist David Datuna ate the piece, calling his post-sale intervention Hungry Artist. This was not the first time Cattelan had harnessed this lucrative combination of tape, walls and organic matter. Twenty years previously, the artist adhered his gallerist, Massimo de Carlo, to his gallery wall in Milan in a web of electrical tape. De Carlo, like the banana, found himself at the complete mercy of the artist in a piece that gave new meaning to the notion of 'bonding'.
Klaus Biesenbach and Hans Ulrich Obrist got a room, well 14 Rooms
14 Rooms, to some extent, was what it said on the tin. For the live artwork, curatorial powerhouses Klaus Biesenbach and Hans Ulrich Obrist invited 14 international artists to each 'activate' a room, examining the relationship between space, time, and physicality. But, as one might imagine, there was a twist: each artwork's 'material' was a human being.
The piece sat somewhere between theatre, sculpture and museum exhibition. The commission was of unprecedented scale for an art fair, running the full duration of Art Basel. This edition of the piece, which first premiered at Manchester International Festival as 11 Rooms, featured works by Marina Abramović, Damien Hirst, Santiago Sierra, Xu Zhen, Ed Atkins, Dominique Gonzalez-Foerster, and Otobong Nkanga, the latter three debuting new works. Each work took place within its own closed-off room, designed by architects Herzog & de Meuron.
Art Basel braved a new virtual reality
Before 2020, the term 'OVR' might have sounded more like an obscure business acronym, or possibly an obsolete file format. But when Covid-19 struck, it became a lifeline for the globally art-deprived. OVRs (Online Viewing Rooms), came to the fore following the outbreak of Covid-19. In the year of its 50th anniversary, Art Basel had no option but to cancel the 2020 edition of Art Basel Hong Kong. As the first major domino to fall, this sent shockwaves through the art world and left all subsequent in-person events in a frenzy of uncertainty. To keep the momentum alive, Art Basel recalibrated with the first digital-only edition.
Kader Attia smashed up his Arab Spring installation
It was a 2011 press image of looted glass vitrines in Cairo's Egyptian Museum that inspired Kader Attia's Arab Spring (2014). For the sculptural installation, staged at Art Basel Unlimited in 2015, Attia re-enacted the moment protesters entered the museum, destroyed its display cases, and robbed their contents during the Arab Revolutions of 2011-12.
Attia wears a dark hoodie shielding his face as he pelts bricks to shatter the vitrines – a gritty performance, filled with revolt and anger. In Arab Spring, Attia explored the legacy of colonialism, specifically French colonialism, and the contradictory notion of how a country intent on reclaiming its future would destroy what was at last becoming theirs. Attia staged the performance at the preview of Art Basel, the shattered glass and red brick debris forming the final work.
INFORMATION
Harriet Lloyd-Smith is the Arts Editor of Wallpaper*, responsible for the art pages across digital and print, including profiles, exhibition reviews, and contemporary art collaborations. She started at Wallpaper* in 2017 and has written for leading contemporary art publications, auction houses and arts charities, and lectured on review writing and art journalism. When she's not writing about art, she's making her own.